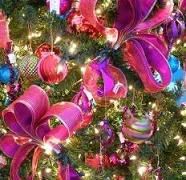 I used to regret that we have no grand Christmas Eve tradition with our son. We decided when we moved to Austin that he should have what time he could with his family in Chicago. We gave him up for Christmas so that he could share the time with his grandma and grandpa, aunt, uncle, and cousins. It was important to me that he know the feeling of having extended family around him.
They treated him like a visiting Prince come to their nation. He was feted with feasts, games, and gifts. Others came to visit, bearing tokens to the castle where he held court. As a good prince, he was gracious and giving. He still is. The love is there.
Did we miss him? Of course, we did. Did we tell him? No, we thought not, thinking he should go free of us to his magical Christmas in Chicago. Who knows which choice would have been better? We know that the house was empty without him there.
So our son owns a Christmas tradition that does not include us. I think of that and hope that his memories are filled with wonder as he faces that time now when the tradition falls away and nothing comes to replace it.
I wish I could hand him the same magical, child-like wonder, but he's no longer a child, and nothing can match years of a Christmas tradition.
Here I write on Christmas Eve as morning comes up over a gray Chicago lake. Now I'm back where the tradition took place again -- only 17 years too late.
I've loved him from afar every year on Christmas, catching the smiles that he's willing to share. I trust he knows that love can handle the distance no matter the time and space. And as he leaves to start his life after college, the same love will hold him safe.
That's my Christmas tradition. It lives in my heart surrounding the gift that bears his name.
−me strauss Letting me be