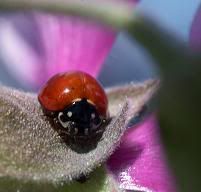 In the rush and tumble, in this July heat, its easy to lose focus looking through the humidity at the lakefront, seeing the sailboats. Gosh they look so cool, so relaxed, so away from everything.
Summer sunshine makes me tired, even as the days get shorter bit by bit. Like a cat I want to sleep away the weekend. I want to read a book. I want to keep cool and feel free.
I want to make the summer last forever. Blue sky, big and beautiful, stay with me. Please, please, please, please, please.
I want summer to last forever. I don't mind the heat. I like warm weather.
So I skip my nap today. I take a walk. I look down. I see a flower. Flowers always capture my imagination. Then a lady bug helps me remember.
Joy isn't just the big, blue, summer sky. It's in the little things.
−me strauss Letting me be