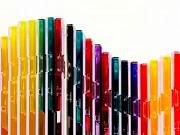 Even when I'm bone tired and oh so weary, even when I don't want to see . . . I hear the music. I hear the sweet soft song of all the years that have gone by − of all the years that will be. I hear my father call me. My spirit comes to me on the lightest note. The music is a sound inside me. It reminds me that I can dance.
The music shows me how to love and how to care, how to live and how to believe. The music makes the sounds of people purer, sweeter. It smoothes out the roughest edges and softens the hardest words.
The sounds inside me know that everyone has music. It's been part of every culture. It's born in every heart. If I could only play the right key, hit the harmony, . . . if I could only find a way to remind them . . . give them the beauty, hold them with a sigh beside me. We could imagine a moonlight of music play across the stars.
No one would be lonesome or lonely. No one would need to scream or cry.
If only I could play the music. They could dance with me.
−me strauss Letting me be