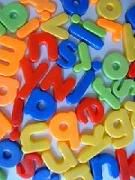 When my son was five, he was the Letter Man. He wouldn't wear any shirt that didn't have letters on it. In computer talk it, it was the gating factor. Letters, he'd wear it. No letters he would not. End of story. No argument. He had his standards.
His Kindergarten teacher had planned a great day−a day that all kids dream of. It would be Pirate Day. All of the kids would get to be pirates. They would learn about pirate ships. maps, and pirate words. They would eat pirate food−some sort of blueberry dump. They would dress as pirates and search for treasure. They made pirate hats and scary eye patches. At the end of the day, they wore them and went treasure hunting.
When my son came home from school that afternoon, I had to ask about the pirate hat that he had made.
"I see you have a lovely pirate hat."
"Yes."
"I see that it has no letters."
"Yes."
"Did you wear it when you went looking for pirate treasure:"
"No."
"I see. Did the other kids wear pirate hats?"
"All of them."
"Well, pirates do wear pirate hats. I'm wondering how you decided not to?"
That's when he shared his logic with me.
"I thinked about it and my think said, 'Are there letters on this pirate hat?' My think said, 'No.' So I decided not to."
I had my answer.
−me strauss Letting me be