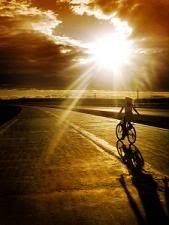 And I'll just get on my bike, and I'll ride and ride. I'll follow my heart all of the way down that open road, peddaling with the wind in my face. And I won't care. And I'll care more than anything. Sometimes I won't even hold on while I ride. Balance. I'm a dancer I can do that. Sure I can.
I don't know how to ride without holding on, but once I didn't know how to ride at all. The sun might be in my eyes, but my eyes will be open, like my heart. I won't be hiding. It won't be dark, and I'll be alive, really alive—not just living.
I'll swerve and turn. I zig and zag. I sing out loud and be so strange that I'll think I'm weird. I'll wonder what I'm doing. I laugh at myself. I'll make myself worry. But not once, will I think that I am ordinary. Not even for a second.
That
is golden.
—me strauss Letting me be