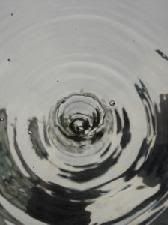 Some people see a stone in the water making ripple and they see a metaphor. Me, I see my childhood—skipping stones in the river. That was an adventure that could take a week and didn't cost a thing. Craig and I were pros at skipping stones. We could do it in our sleep. Though we never actually tried. We weren't allowed out at night—let alone down by the river after the sun had gone down.
Craig and I collected skipping stones. Those stones were the product of days and days of serious searching. They say a good man is hard to find. A good skipping stone is even harder and you only get to use it once. A skipping stone needs to be smooth and flat and about the size of the circle made when your index finger gently touches your thumb. A good skipping stone also needs to have a balance that makes it feel like it rocks perfectly in the palm of your hand.
When we had 6 or 7 perfect skipping stones collected, Craig and I would sit on the riverbank under the famous white oak. We'd talk about the challenges of the "Great Skipping Stone Contest" we were about to undertake. We'd set our goals—5 skips for the first stone, then 6 skips, then 7 skips to win. We'd never plan for all of the stones we'd collected . . . to be left without skipping stones was a pain not to contemplate.
The contest would start. Sometimes neither of us would reach any of our goals. Sometimes we'd both make all of them. It didn't really matter. The fun was in the doing, not in the points we made.
Ah, but when you see a stone perfectly skipping across the water . . . the miracle of a rock defying gravity is a beauty to behold.
If you can make a stone skip 7 times across a river, you can do most anything in the whole wide world.
—me strauss Letting me be