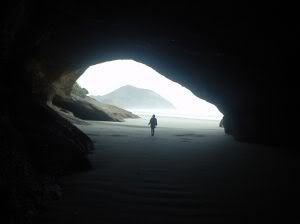 She said, "What color is the place where you keep your feelings?"
"Black and indigo like a moonlit night," I answered. "Close and safe, like a womb." And I felt myself, as I spoke, inside my feelings, as if I were inside a living cave.
"Where is this place?" she asked.
I formed my hands like two sides of a circle 10 inches across and positioned them in the air to the side of my left hip.
"What would happen if you moved them inside you?"
With that question, I was transported back in time softly, instantly. Looking out the window on a moonlit night in my past, I was realizing how I had pushed away, pushed out, set aside my feelings. From that past to that present, I had carried my heart alongside where no one could find it. It was close and attached, yet separate and alone.
I moved my hands to put my feelings back inside me.
In that moment, I knew the meaning of
heartfelt.
--me liz strauss, letting me be