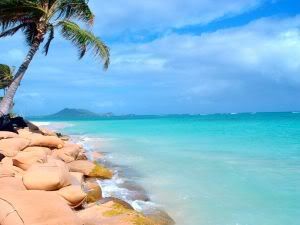 The best part is I don't need an airplane. I just lean back in my chair, close my eyes, and I go there.
It's a perfect blue day with a perfect blue sky. Time's as open and wide as the ocean.
It might take a while in the night behind my eyelids to find the hole through to the light and the long sandy beach. But soon enough I feel the ground giving back. It's sand under the sneakers on my feet.
I follow the footprints, little three-part Vs that make curves and swirls on the shore where the birds have been. I hold my journal in my hand, wondering what it's for as I empty my mind into the expanse.
Then I sit and stare, letting thoughts pass by on the breeze that the ocean brings. I don't catch one. They don't stick or stay one. I know what it means to be free.
And the best part is that I don't need an airplane to go there.
There is me.
--me liz strauss, letting me be