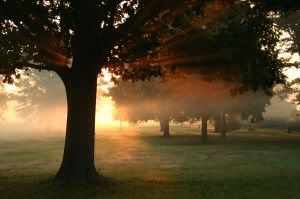 I remember the days when we would camp outside. I'm not much of a camper. No, no, not a sleep-on-the-grouder, not ever. How I happened to be there, even my childhood years, I won't ever know. Room service doesn't go there. Bears and other things that aren't people tend take my attention from noises unseen in the darkness. It's not my shade of green, or gray, or black. No, no, not my color -- not my feeling. -- not even close.
Though I spread out my spirit under the wide, wide, so open sky, though I feel my thoughts calm and grow loarger as each moment brings me closer to the dirt, I can't help but wish for a real roof to keep the rain at bay. I imagine some screens to keep mosquitoes looking in other directions, because I am out of reach. They would be there. I would be here.
I don't sleep.
Rocks in the ground sit in my back. Night and it's sounds play in my head. They are calling my sense of imagery. No, no, not thoughts of wonderment. It's too stark there. It's too overwhelmingly uncivilized. I prefer wonder, but there's no wonder there in the dark.
Spooky, creepy ideas take me to a Stephen King book that he never wrote. I refuse to be inside a grown-up, little boy's nightmare book. I can devise and live in my own.
I write in my journal by the camplight. It's the Abe Lincoln me.
The quiet of the night before dawn there, drowns me with relief. I am settled and softened. I was made to be part of the changing light, part of the changes happening to the night. No, no, not a change in me. A change out there.
In the morning, almost there in my mind, I am where the sky shines like heaven visits it's gentle glow on me. Right here, right now.
In the morning, almost there, I wish everyone I love were with me. to feel what I feel.
--me strauss Letting me be