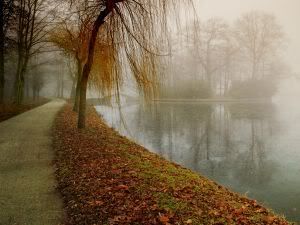 I wonder whether others can see the mystery inside of me. It's churning like a faintly wet mist. I can almost see, but not quite. The ground is unsteady, soft and unready. My feet are unwilling to walk where I can't see the vision.
Is that the vision? Is that my fear? Is that a glorious picture of potential energy that doesn't exist? The air is clouded by that faintly wet mist.
The weed tree that wasn't there three months ago, five months ago, has more than suddenly appeared. It stands as if it has always been there, in the finely trimmed ideas of who I am. It shakes in the breeze. It bends in the wind. That could be good. That could be all of the flexibile fluency with words and ideas that defined me for all of my years.
It could be an answer.
I reflect.
I don't think or ponder. Instead I am a mirror, but this time, I am reflecting me. I think.
My heart takes hold of the view. The faintly wet mist moves so slightly back so that I might see just a glimpse of the silent trees growing along the river.
My heart warms my thoughts. I can wait until I know. Unitl then, my heart will believe enough that knowing will be an idea like the rest hidden in the faintly wet mist, in the mystery of the mist.
Don't push the river. The river pushes itself.
--me strauss Letting me be