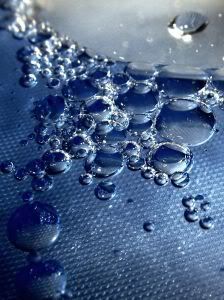 Are they up? Are they down? Which way there they going? So many bubbles in a glass, gathering, separating, not really connecting. They remind me of a person or two I once invested in. Lighter than air, lovely to look at, intriguing, entertaining, but they are not meant to be emotionally sustaining.
So many bubbles in the world, you can see right through them. When we're small and young, they are glittery, glamorous, and magical. They are vehicles, wishes, fantasies. To be with one is to share in romance, is to dance without a care on a green, green lawn behind a mansion in a fairy tale.
Ah but, when we're tall and grown, they are empty, hollow, and hard to care about. They are useless, lifeless, colorless. To watch one is to see something about to disappear and to not really care. Even the mathematics is ordinary.
The bubbles of my life only beautiful when the sun shined through them. Then it was the light that made them shine. It was the light, not the bubble, that I saw. It was the light that had all of the the potential.
And the light still shines even though the bubbles have long since gone.
--me strauss Letting me be