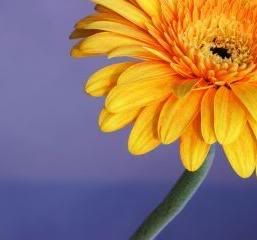 She's just a little off center.
I'm just a little off center. Always have been, listing just right of where a ship should be. Or maybe it's left.
Actually, I've never stopped to pay much attention. It's hard for me. I can't quite figure out where the line is. Just when I find it, a butterfly catches me, and that line in a new direction. Like a rope, it twists and turns. Like a wanderer, I follow it 'round and 'round, over, under, and through the things that I have to do.
I don't really like standing up straight. I like leaning. I like stretching, dancing, figuring out where my brain might take when I'm not really thinking.
What I could be a big yellow flower against a blue, lavendar sky?
I have the space I need to feel every part of me. I'd have the sky to keep me company. I'd know the feeling of being without thinking. What a lovely idea that was.
It was only a little off center. Not enough to worry about.
--me strauss Letting me be