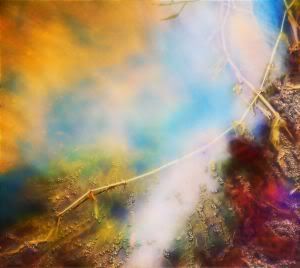 Here it comes, a feeling, rolling in like clouds on a sunny blue day. It's a lucky one. I can tell already. I can tell by the energy and the light, bright, childhood, "let's go out and play" chemistry that seems to run through my inner being. I sit at my keyboard, thinking. Anyone could see me here. Totally and physically present. Except . . . I'm miles and a few decades away in my backyard.
My imagination is in charge of me. I'm most certainly not.
Creativity is a magic that overtakes me in a rush. It's much like the way that it used to be when I ran down the hill of the vacant lot beside the house where I grew up. Feel the wind in my face. It's as it's meant feel. Feel the gravity pulling me. I'm almost flying with it, and I don't hardly touch the ground. As I'm going all things that I pass by are simply a blur of colorful blends and splashes in my side view mirror.
Then I reach the bottom of that hill still running full out and puffing. Then I lay in the grass to savor the experience of having a brand new idea – that's when the colors come. The idea bursts wide open., and suddenly, I fall back onto the ground, ecstatic!
I have a rainbow of amazing clouds inside, above, and all around me.
Nothing can explain the beauty of an idea being born.
−me strauss Letting me be