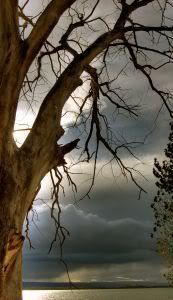 What is wisdom? I wonder.
Every bit of life has given me a bit of knowledge. Decisions that I once fretted, and tore paper over, whisper past me on a breeze. I don't worry nearly as much as I once did. Have I grown more into my being? Or has my brain chemistry settled to where it always was meant to be? I walk the road that is my own and each step gets easier.
But do I know wisdom?
When I think of wisdom, I think of an old tree that has lasted by a river, through many storms and so much erosion. It knows what it means to go from a green weed to a strong healthy unbendable force holding its ground, branches spread in glory. The old tree also knows what it means to lose that stature, leaf by leaf, cell by cell, until stands frail and gnarly, with only memories of what was to replace all of the "what could bes."
Wisdom comes with loss. Yet that gnarly tree knows. It's learned to bend with time. It lived with nature. It let go of it's beauty to be part of the world in which it lives. It has no reason fight the wind. It is a gentle, harmony.
Wisdom is like music. Intangible, earned through practice, and requiring a gentle giving.
What a magic feeling, how calm and how humbling, it must be to be wise.
−me strauss Letting me be.