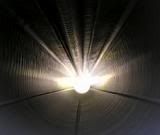 They say I'm resilient, and they act like it's something.
I call it getting up in the morning. I guess I could stay in bed, but sooner or later I'd have to get out of bed. Then I'd be facing a bigger bunch of troubles than I'm facing now.
From their side of the fence, it might look heroic, but from where I'm standing it seems like the only thing that I have going. I've to keep heading for that white light at the end of the tunnel.
Now that white light − it's resilient. It's always there, even when troubles seem to block it out.
I suppose some troubles , if you ignore them, lose steam, wither down, slink away leaving no damage. I've got no experience of troubles like that. The troubles I know are the kind that stick with you, stick on you, stick to you.
I have to face them, look in their eyes, and tell them they have to leave. I have to let them know it's me and the white light. The white light − it's resilient.
If I don't do that, my troubles stick around. They won't listen. Fact is, they'll start pushing like bullies on the playground. It's happened. Life doesn't work, when I react to troubles. It works when troubles react to me. The only way to do that is treat the darn bullies like children.
Every morning I get up ready for my problem children. I plan them a breakfast of what I'll do with them, to take care of them. They are handled with calm, and directness, and love. Then I shine that resilient white light, and I tell them they aren't any trouble − knowing that if I believe that I can disarm them. If I can believe I can tease the meaness out of them.
That's about when folks start saying, I'm resilient.
Resilient can mean
positively stubborn
.
I hope they're right. I want to be resilient − like the white light.
−me strauss Letting me be