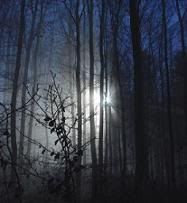 Bloom's taxonomy: know, understand, apply, analyze, synthesize, evaluate.
I know I'm here, or do I know that? Do I need other people to verify that I exist? Am I like the tree in the forest, that my sounds don't matter if no one hears me? Many people feel that way. I once was one of them. I am no longer.
I see their need to know they're here. I see them clutching tightly to unimportant things. They worry over life's details − milk rings on drinking glasses or crumbs on tables. They fret on a word said that's not the one they might have said. When a mistake occurs, their first words are, "I didn't cause it." How hard it must be to find a place to stand by clinging to such negative things.
I know how to be invisible. I know that it can feel a struggle not to be.
But how do I know that I am?
I know because things I do change things. When I plant flower, it grows or withers. When I smile, people smile back. When I let go, I breathe easier, and others sense that. They relax. I take down walls or build fences. I wipe a tear from a child's face. I give a hug to a grandmother. I give up a seat on a bus.
I know I am because my very being changes things in the world.
−me strauss Letting me be