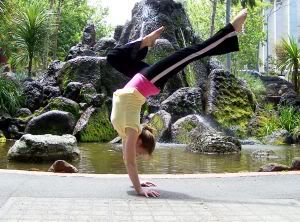 I'm having this thought about a book I read over 16 years ago. It talked about how many people spend more energy playing games and doing hobbies, and they invest in their work. It pointed out how folks can come home from work exhausted. Then, go workout or go play baseball with their local backyard team.
The man who wrote the book, Charles A. Coonradt tested his idea by turning work tasks into measurable self-competing contests. People were asked to weigh the paper they filed every day. Suddenly a department that had been behind for three years was ahead and had 3 hours extra each day. They asked for more, if he would find a way that they could measure the new task too. He calls his book,
The Game of Work
.
I was thinking, What if we made schoolwork into a game? What if we took it outside of the school building and made extracurricular? Would more kids love to learn math and science and history then?
What if we made the mandatory curriculum be art, music, and dance? Would we ruin the joy of these simply by making them have-tos?
I guess, I'll never know what would happen then.
On the other hand, I bet we all could predict.
Why can't we find a way to share the joy without needing strings attached?
It's the presentation, not the content.
−me strauss Letting me be