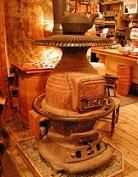 When the old country store closed for the summer, we didn't have any where to go. Yeah, I know he left us the keys. But it's not the same without Scot around to say, I appreciate you stopping by. His soft voice, his storytelling. They're just so Scot. You know what I mean.
I stopped by the old store a few times since he left. I wandered through looking around for old friends − a cat hair, a coffee cup, a yellow pad with a pencil and stray word laying around. I read a while, but left no comments. Seemed no point in leaving burden for him when he got there and started unpacking. Scot was coming back, after all. He said so and I believed, because believing in friends is what you do.
This morning the message came in a comment. I heard his voice. My eyes went wide.
Scot is back. I wanted to tell everyone and so I am.
He's here again. He's got a job somewhere in Texas.
The
local store is open again
.
Not that he was missed or anything. I just need some sugar and stuff.
−me strauss Letting me be