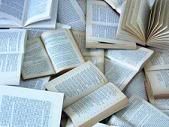 When I was little I could read very early, but I didn't have any time for books. Books had beginnings and endings and only one story. What good was that? My head had so many and they were damn good.
My backyard was so full of adventures and pathways to glory. I had so many other important things to do. I had a basement full of music and dancing. A gooseneck lamp microphone bent near any time an important world speech needed speaking. A flashlight held high with a hand could light any world stage. Sneakers were perfect for any international spy's kind of sneaking. Books just sat there with words looking back at me, black boring letters on dulling white pages. How much imagination did all of that take?
Now I read anything I can get my hands on. I read adventures and learn about pathways to glory. I find out about music and dancing and people and places I didn't know then. I've found the magic between and around the letters and in the white spaces.
Maybe my imagination has changed.
−me strauss Letting me be