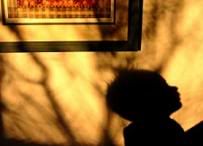 My family calls me Maribeth. It's one word with an i. My mother chose that spelling.
When I was five or so, I got a baby doll for Christmas. She is the best thing.
Baby Doll
−that was my dad's pet name for me.
That baby doll must have been a very special purchase. I've never seen a doll anything like it. I still haven't. It's the size, shape, and weight of a real baby. I named her Elizabeth. I liked the letter
z
.
When I was five, she was all my arms could hold. My mom gave me my own baby clothes to dress my doll in. I can still touch the feeling of amazement to think of myself in the dress my doll was wearing. I played with her everyday.
I remember sitting Elizabeth in her high chair where the sunlight streamed in my bedroom window. We'd think together about the dust motes in the sunbeams. We'd wonder whether they came from the sun to us on that ray. I liked the word ray. So did she. We'd look through the sunlight out the window to the trees and the river past the back yard. We both had a thing for trees.
I taught her which was foot was her right and which was her left. I even wrote R and L on the bottom of her feet in blue ink so that she wouldn't forget. I'd hold her and rock her back and forth to watch her glass eyes with those black eyelashes open and close. It was fun to do that and her eyes were blue like my own. We'd hug each other every day.
We would listen to music on my record player and I would sing songs for her. I was always there for her. She was always there for me. Toys and dolls are good that way.
When I went to college, I took her with me. It wasn't a sentimental blankie thing. It was a practical decision. I figured if I didn't keep an eye on her, Elizabeth just might just get lost somewhere in the shuffle. It wasn't a bad decision. Other things from my childhood got lost−things I wish I still had. She even had the starring role of the baby in one of our theater productions, after Alice took my hand and walked me into Wonderland.
It's a funny thing that I named that doll Elizabeth. You see. I think I was eight or nine and pretty much had quit playing with her, before I knew that my real name was Mari Elizabeth. I was thrilled to find out I had a name that had the letter
z
.
I was in college before I realized that my baby doll who wore my baby clothes had the same name as me.
My mother had known . . . my mother−who had lost a 9-day-old girl baby, three years before I was born.
My mother called me Maribeth. My father called me Baby Doll. I called my baby doll Elizabeth.
I still have that baby doll, Elizabeth. It still wears my baby dress. On it's feet you can still see a faded L and R.
The sun still carries dust motes on sunbeams when it shines.
Right before she died, my mom said I was the best thing that happened to her.
−me strauss Letting me be