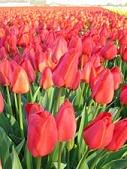 The tulips are out by the Day School. They're standing tall in front of every landmark house on Hawthorne Street. Some are red and yellow in new sod. Some are white and scattered randomly. They've even made their presence known in front of my very own building.
Tulips and sunshine change everything.
People who, one week ago, passed me on the sidewalk without smiling, are saying bright hellos to me. Tulips show up like new love every spring.
Tulip. New love. They even sound the same.
Good things−sunshine, tulips, and new love every spring.
−me strauss Letting me be