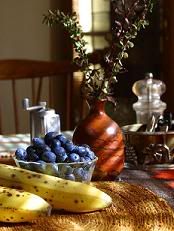 The place where I live in my mind is what they call "homey," but elegant. It's not Martha Stewart. That would be too flat, too cold. Sunlight comes in through the windows to shine on the berries on the dining room table. The table is wood, round, and real. So are the people who come to visit are real too.
The walls are rich, soft colors that would draw my friend,
Garnet
, in. Gold I think to play off the deep red glow of his heart and the music on the stereo would let
Betty
whirl be her charm. The trees out the window invite all kinds of wildlife so that
Kelley
and
Doug
would join them.
Rain
would come shortly thereafter in her quiet way. And
Mark
would chuckle in right after her.
Everyone would finally meet
Marti
. Marti would meet
Lori
with
Zilla
and
Cheryl
who'd be by the fireplace listening to Crosby, Stills, and Nash. All of us would be pretending we're in the movie, "The Big Chill," and we'd turn and look when
Scot
came in carrying his unused snowshoes and laughing. (His cat would be close behind, looking for one purple crayon to play with.)
Next thing you'd know the T-three would arrive—
Trace
,
Trée
and
Toadman
—just in time for tea and tall tales. They'd be the ones telling them. At first we'd be surprised, then we'd know.
This is how friends act when let loose in my mind.
Liz
of Singapore is thinking she's glad she doesn't have to live in my head.
But don't forget that it's not a party. It's just having friends over.
Parties put too much pressure on everyone.
—me strauss Letting me be