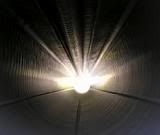 Sometimes the winter seems like a long tunnel that contains fall and stretches from the last warm days of summer to the first warm days of spring.
Though the sky might go blue for a time now and then in between people seem to stop believing in things like flowers, and picnics, and playgrounds, and "How do you dos."
Then the first warm air slides through the city. A crocus pushes up through the ground next to a high-rise building where a gardener hasn't yet visited. Jackets get lighter. People walk just a bit slower and don't quite shiver as they wait for the bus at the stop outside my building.
In the morning when I go to make coffee, the sun starts to be up before I am. The lake starts to look blue again. A sailboat has returned. Soon there will be many.
At the end of my sight there's light. We're coming out of the tunnel.
It's not one minute too early.
The color, the beauty of spring holds a promise that's blindly beautiful to me. My eyes hurt with pleasure already just to imagine seeing it. Bliss—the vision of spring.
—me strauss Letting me be