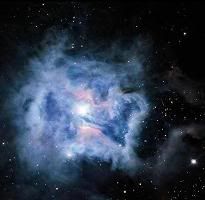 I lit some candles and put on "Tubular Bells." I lean back into that hypnotic sound that makes it easy to tune in and tune out. I like the other worldly sounds of the music. I like the way it takes me from here into the music.
Becoming still is easy. My eyes close because the sounds are easier to listen to without visuals interfering. I listen for a while and then I think,
This is not what my mother meant when she said "In one ear and out the other."
This is a blissful listening.
There are times when life and music should not have words.
I am dancing in my head. That makes me smile to think that I can enjoy such a small, yet elegant pleasure.
An oboe starts winding around me inviting me up and out of my thinking. Like Peter and the Wolf I follow it. I feel my spirit lifting and going with it, leaving my cares, my work, my thoughts behind me. My mind feels no need to stay grounded and suddenly the music is lighter and so am I.
A chord strikes and I'm floating, lifting softly into the sky on the lightly picked guitar while star sounds play all around me. I am flying—not fast—slowly at my own pace. I'm enjoying everything that I pass, and then I see it there.
The Iris. The biggest blue flower in the Universe.
At the same time, I hear rainwater flowing over all of it's petals. I stop, just floating there. The range of colors mystifies me. I want to waltz. I want to plié. I want to make my arms form the shapes I see. I glide around what I used to think of as the old-lady flower. I float for light years and still there's more. In the center where the star is some of the cosmic dust has such a reddish glow. This is an Earthly-flower picked by the gods to become a star.
I move back to watch from afar. It's like watching clouds on the perfect sunny day, only better, because it's night and no clouds have light like that inside a nebula. And somehow the cloud-flower light spills over and fills me too. I find out I've always wondered how it would feel to be a flower. Now I'm a star flower with music in my head for thoughts. Could I have found heaven early? I wasn't sure I'd find it ever.
This is a busy nebula—not a star nursery. The luminescence is a star in its formative years. I feel like we are two kids together. Just then the tubular bells begin to play. My imagination spreads wide to six light years with the music to fill the color and the space. Imagine the universe's biggest flower has been out here waiting for us, aglow in the dark, hot and cold. alien and familiar, waiting for you and me.
Finally as the music ends, I float my way back home, now knowing that irises are not old-lady flowers, but half-grown kids.
We miss something when we don't make time for life and music without words.
—me strauss Letting me be