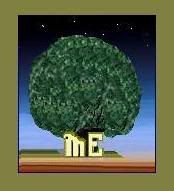 "A rose by any other name would smell as sweet."
I'm not qualified to argue with that. But what is a rose with too many names?
From 1950 to 1967, there was a television quiz show called
"What's My Line?"
A celebrity panel would use yes or no questions to guess the profession of a contestant guest, who upon arriving would be asked to
"Enter and sign in please."
The contestant would then write his or her name on a chalkboard.
Years ago, I resigned myself to the fact that I could never be a contestant—not because the show is over—because I would freeze at the chalkboard. I wouldn't know which name to write.
Names are the most important words we know. My name is the first word I know about me and probably the first one I know about you. In some cultures you know my secret name, you own my spirit too. I guess I could say I am rich in nomenclature. To twist the
Mother Goose rhyme
, I have so many names I don't know what to do with them. Anyone in need of one feel free to ask to borrow one or two of them.
Through the course of my childhood and all through my life, I've been a serial name catcher. I've caught enough names, given by others, that it could lead one to think I've lead a life of thwarting the law. Unlike my son who was born with a gene of no tolerance for any terms of endearment, I'm like a magnet for the name of the day, and my empathy gene won't let me correct it.
I'm not the only one who thinks that I might have a name or two I don't need.
My younger, older brother once called me at work. He had to use a crib sheet to know who to ask for. When he finally got through his first words were, "You know, even though you're still in your twenties. OZ—he calls his almost-twin OZ and his progeny, the
OZ
lings—and I have started a collection. We figure we need to start saving now to buy a tombstone big enough to fit all of your names." Even then it was looking like I'd need the person who designed the Vietnam Wall.
I grew up as Maribeth. One name, one word, one special spelling—the wrong spelling. Parents need to quell the urge to give their child a name with a unique spelling. It means years of embarrassing moments that said sensitive child needs to find a polite way to correct people every time they misspell said unique name on important papers. It means I'll never find a personalized license plate at Disneyland, and when the mail comes and people spell it the usual way, it means I feel as if I'm opening someone else's mail. If parents only understood, they'd find other ways to express their creativity. But that was my first, first name.
My older, older brother also called me Little Monster and Toots. My younger, older brother called me with a whistle. My father called me Baby Doll. My mom called me Matilda, Petunia, when I was in good favor and
Lady Jane
or
Queen of Sheba
when I had engaged in misbehavior.
I was eight years old before I knew my birth certificate says Mari Elizabeth. Imagine my surprise when I found that two years earlier I had named my doll, Elizabeth, after me and didn't know it.
I tried Mari E. on my very first driver's license. That lasted until the first time a cop pulled me over. When he called me Marie, my Mari E. days were officially done with. My legal papers ever since have been firmly signed M. Elizabeth.
Friends and cousins kicked it up a notch with Mb., Murb,. Murbee, Maribeff, and my favorite Murbelia. I guess once someone renames you they can't let go of it. I still get e-mails to these names. There were one or two in college who called me Star for my last name, but that was creepy.
Then follow the unique ones: TBW, a friend calls me. It stands for Tall Blonde Woman. Two Spanish speakers both call me Isabel which means Elizabeth. Each of those make some sense. But I can't explain why my in-laws—who are 4 foot 11 and 5 foot 1—do not see the irony in their calling me Little One.
My credit cards and this blog call me, ME, which keeps spam down.
The woman who christened me Liz had known me for less than an hour. I was too shy to tell her that wasn't really my name. About five years later, I told her she was like a second mother because she had named me and it stuck.
I kept Liz because I figured that no one could misspell it. Well that, and I liked the idea of having a name that used the letter "z." I was wrong about the first part. I get messages quite often for some person whose name is Lynn.
It makes some people crazy that I have so many names. On most days it doesn't bother me, except when someone asks me "What's your name?" An answer of "It depends." doesn't work in most cases.
My brother might be right, I may have reached my limit. If I attract more terms of endearment, I'll need a schizo-form disorder for the help in keeping track of them.
I didn't even mention the guy who was sure my name was Sue.
—me strauss Letting me be