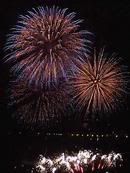 Melly at
All Kinds of Writing
tagged me in what I think is a really fine example of what a writing challenge might be. The event is called
The Search for Joy
. How could any self-respecting optimist turn that kind of challenge down?
As I describe the challenge, I hope that
Garnet
,
Scot
,
Tanda
,
Lance
, and
Mark
pay attention, because I am officially tagging you to do the same.
Of course, if you wish to ignore the tag, you should feel free . . .

THE SEARCH FOR JOY

Search your blog for the word ""joy" used in the context of ""happiness."" If you cannot find the word in your weblog, you may use any of the select list of synonyms below.

joy --— amusement, bliss, cheer, comfort, delectation, delight, ecstasy, elation, exaltation, exultation, exulting, felicity, gaiety, gladness, glee, good humor, gratification, happiness, hilarity, humor, jubilance, liveliness, merriment, mirth, pleasure, rapture, regalement, rejoicing, revelry, satisfaction, wonder

If your weblog does not include a built-in search engine, use
Google
to search for the word you wish to find. If you've found the word and it was not used facetiously or sarcastically, good for you. All you need to do is link to your earlier entry, and write a few words about that joyous moment.
If, however, you have no joy (whole words only) in your weblog, you must dig deep in your soul and find something wonderful in your life right now. One little thing that fills you with warmth, that bubbles you over with quiet happiness, or tickles you with its good-hearted hilarity, or makes you glad you just took a breath, and are getting ready to take another. It doesn't have to be anything big. A smile someone gave you; your cat on your shoulder; the way the light angles through your window and casts rainbows on your floor. All it has to be is something genuine, something real, something that matters to you.

We all need joy in our lives, and need to take the time -- from time to time --— to recognize it. And sometimes, we need to pass it on. Even if we're a big pain when we do.
When you''ve written of your own joy, pass the quest on to five other bloggers.
I'd say more about joy and this writing challenge, but I'm off to take up this gauntlet myself. . . .
UPDATE: I KNOW A
HUNGRY WRITER
.
HE DOES NOT HAVE A LOT OF OLD POSTS, BUT I BET HE COULD WRITE A GREAT NEW ONE ON JOY.
I CHALLENGE HIM TO—AS A CHICAGO GIRL MIGHT CHALLENGE A NEW CHICAGO BOY.
—me strauss Letting me be