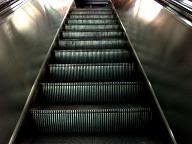 What is it about small children and shopping malls? Is it the lights and the color? Maybe it's the bustle of people passing by. It could be the wide open spaces or the visual over-stimulation. Whatever it is, be prepared if you take a toddler to a mall, because shopping malls affect small children like no other place on the planet. I've decided it's an illness that I'll call mall-eosis. Stay with me as I relate the case of Emily.
Emily is a lovely young lady who likes dresses, dolls, and dining out. The ribbon on her teddy bear was never once in disrepair. Her hair is always perfectly combed. She is smart and has a sense of humor. If at this time you asked her age, she was would say four and you'd believe her, even though she was really only 3 and ¾.
Emily is her mother's pride and her father's joy. She has does their bidding cheerfully to a point that is nearly Stephen King eerie. Despite these incredible traits, I can say with certainty she does exist. I know her father, Steve.
Emily and her dad went to a shopping mall a few years ago. The errand they were on required a short trip to a store on the fourth level. They headed straight to the escalator—a two-story moving stairway with walls about half-way up the ride. According to Steve the escalator had one speed—slow, so slow you wish you'd die. But his impression of the speed might have been colored by the sad events that soon transpired.
You see that's when mall-eois struck the delightful child. One foot upon the escalator and she took her father for a ride. Emily was Evily— every kind of nuisance with loud, look-at-me behavior—the mall kid that puts every parent in a total no-win position. Steve knew he was in a bind. There was no way out. She was noisy, nosy, and into other people's stuff.
Her father spoke to her in his firmest father voice, "Emily, stand still. Put your dress down. Leave the man alone. Put your shoe on. Hold my hand now. No we can't get off. Put your dress down. Let go the man's pants. Stop pounding on the rail."
It's the parent's nightmare. You can't raise your voice, or you're seen as an abuser, nor can you ignore the obnoxious child for then you're ruining society. By the way, it doesn't have to be your kid, everyone assumes it is.
The man who was ahead of them kept turning to share his dirty looks. "What did he think?" Steve said when he told the story. "That up to then I was enjoying it?"
He went on "It seemed to take an hour up the ride and the idiot guy turned and looked too many times. Meanwhile, Emily had decided that this was a game. There was no solution until we got off the escalator. So kept my cool and bided my time, until the guy turned and gave another dirty look." Steve took a breath and smiled.
"I'd had enough of his looks by then. So I said to him, 'You turn around one more time and SHE'S YOURS.' That took care of him. Actually now that I think of it, Emily got quiet too."
So to anyone who has a toddler and a shopping mall looming in the future know that even trained professionals avoid it when they can.
My experienced parental advice? Get someone else to do it.
—me strauss Letting me be