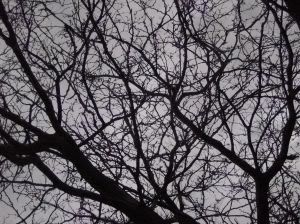 In the winter, when a tired soul looks out the window, the lack of color can wear like a shroud.
When I was a child trees were for climbing. They were big, black, and huggable. Trees were as mighty and majestic God and as gentle as the creator who holds the world in his hands.
Sitting in the branches of a trees, I could be part of the scenery. Without thinking, I could look out knowing that life had a plan and a beauty. I reflect on that as a talent that comes naturally to a child.
Now I'm older, looking out a winter window at a gray day, a faraway day wishing for the sun and green leaves of summer. But I'm blessed and gifted with a childhood memory I can recall. It brings me back to the branches of trees that I hugged that hugged me.
Out the winter window, I see the colors of life and they fill my heart full.
On that last freezing wind, I sent every huggable memory to you.
--me liz strauss, lettingmebe