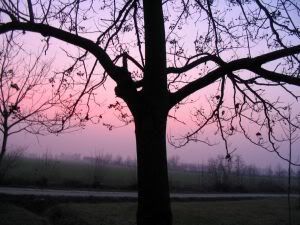 Another anniversary of the day that you were born. I think on the world. I think of my father. I think of the sky and trees.
The world is wonder waiting for you to conquer it. You'll turn it to serve you and you'll end up serving back. Folks will delight, destroy, and disarm your best laid plans. Friends will move on. You'll wonder where they went. One or two will stay to be always friends.
I'll sit in the audience holding a net for you. I sit hoping that you fly and never need me.
You're deciding things, making a place in society, walking the path with wise men, walking the path with fools. You always did too much thinking.
Please don't worry. You have all you need. You never needed me. No, not really. You are a powerful presence like a deep, dark tree on a lavendar, pink morning. You stand vigilant when the others run. That's your secret weapon. Then you smile knowingly with a sweetness that captures a heart.
I sit thinking how lucky the world is to know you.
The world is filled with wonder and mystical mysteries . . . I'm filled with the mystery and wonder of you.
--me strauss Letting me be