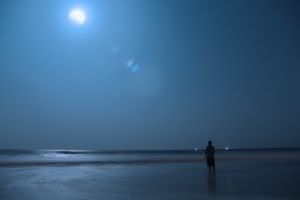 When I was a child, in my father's eyes, the sun rose and set on my head. The relationship was round and whole, always my hand inside his, always my chin turned up toward his, I knew he hung the bright moon. We spoke the language of unconditional love and understanding. The perception between us was at the deepest soulfelt level. He never once said
no
to me. He always asked if I was happy. Somehow my life was filled with deep take care for his happiness too.
At no moment in my life could I think a thought, say a word, or wish a dream, that would bring harm or hurt to him. It was beyond imagining to allow even the slightest sadness to cross those brown eyes that would so soften when my reflection was in them.
I knew every cell of him. He knew every cell of me. No hidden motives or baggage ever came between. No mistrust, no mistaken words, two hearts fully open in joy was the reality.
When I was 26, my mother, his wife, was dying. She was in an irreversible coma.
Like so many days, through my entire life, my father stretched back on top of his bed. I sat beside him my head his barrel chest. This time instead of him listening to me. I was listening to him. He spoke for less than 10 minutes. It was the only time he spoke of what might have been.
As the youngest child, the way my parents did things was the way that families worked. For as long as I knew, my folks were like early TV parents -- they didn't sleep together. My mom would fall asleep on the couch. She said
she liked the couch behind her back. . . . besides he didn't get home from the saloon until 4 in the morning. Then he snored so loudly you could hear him two rooms away.
My mom got up at 6 a.m..
That day when I was 26, my dad asked me a question about himself.
He said, quite simply, "Do you think I wanted to sleep alone all of these years?"
I was stunned to hear it, because my mind went
Do I think? Do I think? Oh my god. Here is this person I know better than I know me and I never had this thought. How did I miss this chance to care about him?
Then he said what is the definition of love, "It made her happy."
This man, my father, the man that I knew so deeply, told me something about himself I never saw -- "perceptive, deep feeling. live my life to never hurt him" me-- I never saw it.
I never saw it, because he didn't need me to see it. He didn't need anyone to see it.
On that day in his quiet voice he told me for a reason. He wanted his daughter to understand how he loved the woman who was dying.
I laid my head back on his his barrel chest. I heard his heartbeat for her, for him, for me.
He made sure that love lived on.
It made her happy.
Four words that made me.
--me strauss Letting me strauss