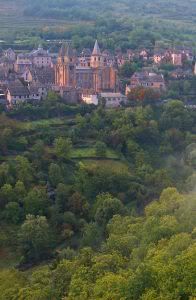 I find myself in a place where I wonder how I got here.
How I wonder!
How I wonder? . . . . I wonder as I travel up one hill and down another. I wander in and out through the trees of the forest that I cannot see, feeling safe under the canopy for one moment. Then feeling in an alien landscape that I must have dreamed up when I was asleep.
What was I thinking to take on this quest?
How could I possibly have done otherwise? It is the path that my life made me for. Touching the trees, feeling the bark under my hands as brush them, me the painter, me the dancer in a noble dance, I'm on a steed in the 17th century. An adventurer is an adventurer. Without adventure what kind of life would this simple day-to-day breathing be?
All of my risk is in my thinking and my fear of prosperity. I am the source of all generosity. I intend to climb that hill and smile my way to the most magnificent future.
It will be like castle in the 17th century. I'll be carried there up a hill and down another. How? I will wonder. I will wander.
I will carry a wish, a hope, and an undying belief with me. They are the magic of every true adventurer.
−me strauss Letting me be