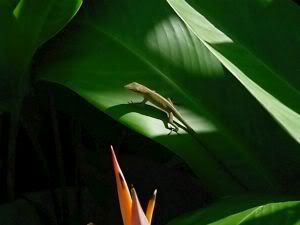 They say it's a jungle, a concrete jungle. When I think on that, they're doing an injustice to the rain forest.
The towering trees and the canopies of the jungle make it dark and scary. The sound and traffic of the species would overwhelm me. I'd be lost in breath. I eaten by bugs long before some large predator got me, long before I was lured by a poisonous frog. The assault of the foreign and frightening would be more than my spirit could handle even with a guide beside me, even with the protection of a crowd.
Some days people scare me more.
That's when I go to the rain forest in my mind, to imagine the life of lizard on a leaf . . .
−me strauss Letting me be