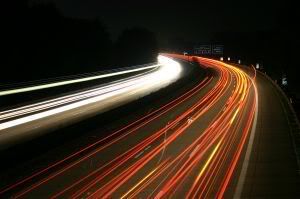 While I'm busy, while I'm so busy, I am making things get where they're going. . . I take things that were one thing. I put them with another and then I make things. I build things. Sometimes I imagine new into life. Sometimes the things that I make aren't really things. They are only ideas and concepts. Yet in my mind, I can reach out to place a finger on part of them, and they will respond with movement and a sound.
It's a wonder and a workload to make thing inside a head that filled with crowd of loud.
Sometimes I do less interesting things. I don't make things. I clean things. I sort things. I put things where they belong. I rearrange my thoughts to see whether it changes who I am. I rearrange my words to see whether it changes what I mean.
All of these things and all of this working with things is a natural way of my life. I don't think that it actually is who I am to be playing and thinking about things, until out of the corner of my eye, I'll glimpse my life speeding by the same joyful way I drive.
Then I smile.
−me strauss Letting me be