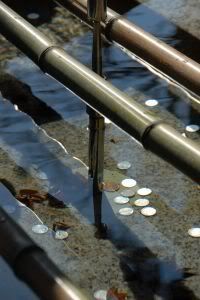 "Let's make a wish! What would I wish for/from the blogosphere." he said.
Because he was Hans, who wore my scarf into battle, I promised I would.
Wishes don't come hard for me, especially wishes for knights and heroes. So I wrote these seven as he asked, and I send them to Hans special delivery.
1. I wish the writing bloggers do would teach us to look at our thoughts, to hear what we're thinking, to see that we worry about the same things, that we want our children to grow old and be happy.
2. I wish we'd remember that behind each word is a person, who wrote it, who thought it, who once was a child.
3. I wish we'd be aware that every word we write is here for our descendents to read, that they will see as strangers from earlier times, as people they only know from what they read.
4. I wish I had time to write a word every day to every person I've met and I will meet, to ask about their lives, their thoughts, their histories, and their dreams. I've met so many beautiful minds. I want to spend time with all of them.

5. I wish the people who didn't blog could experience the weird synchronicity and serendipity that keeps occurring reoccurring as thoughts interconnect, friendships form, and genuine feelings are shared. I would miss the openness of our minds if I left.

6. I wish the Internet business model would show it's face to allow everyone who need work to put their skills to use in constructive ways. Imagine the world that would make. Imagine the innovations, the things we might build.

7. I wish we would breathe, that we'd look at the sky and remember the world turns without us. Then we'd see that we all worry about the same things, that we all want our children to grow old and be happy.

Big wishes all of them, Hans. You deserve no less.

Wishes do come true . . . some just take longer.
−me strauss Letting me be