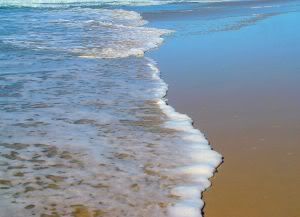 It didn't take long to get there, to the water's edge. Truth is I was there before I grabbed my keys to go. I was a state of mind that I needed to find the visual for. That's why I left the safety of my small space to wander out. Still as soon as I put my jacket on, stuck my wallet in my jeans, and reached for my cell phone, I was already gone.
Time in a car means nothing when you're on your own, if where you're going is where you need to be. I let the music, some complicated fugue, play me along. I let the blue sky keep watch over my way. My thoughts kept the picture of space and held my purpose firmly, unwaveringly ahead, just ahead of me. I was the child on a date with her life. No thoughts needed thinking. Not really, no pains. Only the call of the edge of the sea.
Perfect afternoon caught me up breathless. It was almost more than I could bear. How the world is filled with metaphors, murals, moving meaning of my life.
There,
I thought,
there. See that calm iridescent, ice blue of my son's baby eyes on the sand of his young man's hair. See the confusion of water that runs up the side.

And I walk between both -- the beautiful calm sand and the chaos of the sea -- I walk through my life on the edge between calm and confusion, under a blue and ever changing sky.
Seeing nature's contradiction makes it easier to bear the same edge that churns up inside.
I love the space under the sky that gives perspective to the crashing, where the calm ice blue meets the confusion at the edge of the sea.
−me strauss Letting me be