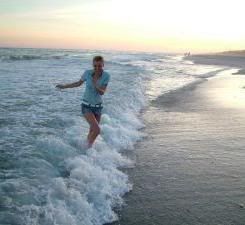 I often dance when no one's looking, almost anywhere.
This morning, at 4 a.m., I caught myself dancing from one room to another. I watched myself for a moment. I tracked my thinking,
You're actually good at this. You should find a way to do it more. What is that you love about it? What are you recreating?
I danced my way through my thoughts into the basement of my childhood. I found myself there when it was still an open space − before my mother made it modern and remodeled.
I was on the dance floor of my childhood imagination.
I could hear the music playing. I could feel the floor and see the diffused light coming through the small, high window. I knew the hours, the fourteen years, I spent dancing in the dusky darkness without worrying. No worries to moving, turning, reaching. My feet didn't need my head to find a way to hear the music playing on the old record player.
I danced my tree house, my diary, the canvas on which I could paint and then repaint.
It was a forest or a field or the sky. It was the space to stretch. It was the statement
I am
.
It's no wonder that I find myself still going back.
Everyone should have a dance floor in their imagination.
--me strauss Letting me be