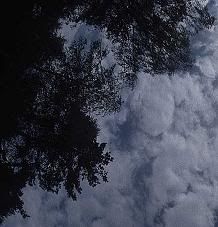 People are the most interesting species. We take ourselves so seriously. We work hard. We work at playing. We work to find balance by adding more activities onto our calendars, rather than taking some out to breathe.
We're not very good at just being.
Sitting under the white oak tree on the river back in my back yard, I can look up through the leaves to see the sky.
That's the epitome of just being alive. I did that a lot when I was a kid. I want to do that now.
I'm figuring out how to carry that tree with me. I keep it in my mind and pull it out when I feel like it. That tree is wise. It knows all about just being a tree. It knows about be-ing.
I'm going to learn from my childhood tree. I'll become a human be-ing again.
−me strauss Letting me be