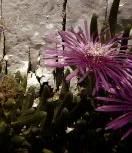 If I never fell down, if I never scraped my knee, or turned my ankle, where would I be now?
Every little thing that went wrong, every little problem I've encountered has been the fiber that has made me. It's not been the good things that formed me. They are only the glitter. The petals of the flower that soon enough might blow off when a strong wind comes along.
What fun would life be without any fear of falling, without any risk or danger? It would be a walk down some smoothly, silky paved road that went on and on to nowhere. There would be no top, because there would be no very bottom. I would have no hills to climb, no potholes to walk in and out of. Music would be only so much sound . . . because dancing would come so easily, as everything would, if I never fell down.
Falling down is useful. It reminds me that I can still get stronger.
I like being strong, like a flower in the wind that holds tightly to its petals.
Standing strong for anyone who's fallen to see a reason to get up.
−me strauss Letting me strauss