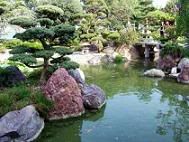 As time goes by I find my self wanting to slow down a bit. Take my life like a nice cognac one sip at a time. I wake in the morning and stretch myself into my head. Not stretching to reach for something, stretching to find a place that feels right. Right place, right time.
Last summer I discovered the beauty of breathing room. This spring I am seeing the light of finding space between breaths, yawning with the luxury of little bits of time, stopping myself before I run off to do something too fast. It's exciting to learn how to turn off the fast forward switch, to have the time to wonder in the white space between words. I reach for a thing to do, and then I stop myself. Is this something that needs doing now, or should I finish what I'm already doing first?
What an amazing thing to do one thing at a time is!
I've always been something at knowing what others were thinking.
Now, I'm holding thoughts and following them to logical conclusions. What was once a fire hose loose on the floor is now like the sweet, still waters of a Japanese garden all my own. No more distractions or self-conscious diversions here. I'm taking the time to enjoy wandering through my thoughts, figuring things out, developing an original idea from beginning to end.
In the strangest way, I'm beginning to get my head around the power of my mind.
I have to wonder whether I've been running away from it all of my life.
−me strauss Letting me be