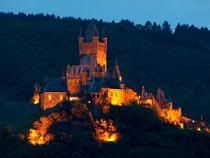 Heart and soul . . . I fell in love with you . . .
My heart, a warrior king, being was my prey
Racing, rambling, insistently, incessantly
No quest to pursue, no cause to champion
King Arthur, my heart leading onward
forward in selfish, hugely noble directions
righting the world with thoughts echoing repeating
loudly, softly, on my mind, from my fingers
Heart and soul. . . as any fool might do . . .
My soul, an orphan-waif, talking was living
Watching, wishing, mechanically, pathetically
No warmth to offer, no room no depths
Guinevere, my soul holding counsel
never outward, not above or beyond noble intents
holding the world one-way touch giving
openly, relentlessly pushing needs away
Heart and soul . . . the kiss you stole . . .
My eyes, my sun, seeing was loving
painting, writing, the musical skyline view
Magic and mystery, smoke and mirrors, then you
Gentle wisdom, strength driving soul deep
Lancelot, your eyes standing near waiting
never forward, not in front nor behind, in my path
holding my hand with grace, silence that speaks
kissing away boundaries at break of day.
With that kiss . . .
you won my heart
. . . and my soul.
−me strauss Lettingmebe