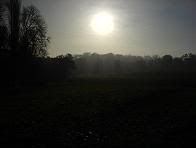 Have you ever had a day when it seemed everything went your way? A grand idea came and you worked on it. You made it happen—exactly as it should. It glowed. All day long doors opened. People said nice things—really cool, unusual compliments. You won a prize. Up was up. Little things were good.
Ever had a day like that . . . in the middle of a time when your whole life seemed wrong?
Everywhere my brain goes, it's running into walls.
Hold onto hope. Take the chair by the fireplace. Have some tea.
I'll soon be coming home.
It's hard to stay warm out in the midwinter sun.
—me strauss Letting me be