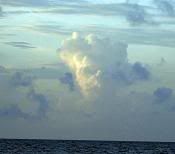 I got up before the sun on Saturday as is my wont. I just can't seem to sleep late anymore—not that I seem to mind. I don't. I'm getting to be a morning AND a night person. Who would have thought it? I never would. It's nice to have the world at peace at both ends of the day.
I got myself up and took a shower. I sat with the stufffed pup and wrote for a while. Then I took the pup out to the beach to see the sun come up together. I was thinking this might be my last day in Key West and a sunrise was on my list of things that were not to be left behind as a memory I forgot to have.
The Key West sunrise isn't about color. It's about space, and clouds, and wonder. It's about thinking what creation must have been like way back when the world began.
That's what I was thinking when I looked left and saw a mother and her daughter.
They were walking, talking, playing. The mother was all in a purple dress—a jumper—a lavender t-shirt and no shoes. Her hair was lightest ashy brown with blonde streaks that made it look lighter. Her daughter had on big short pants in pale pink and a white t-shirt, no shoes either. She was busy seeing how far her feet would sink into the wet sand. She was a little girl of about three out test driving her feet.
Every now and then, one or the other would run into the water and send a splash backto the one who stood on the beach.
An invisible arc went between them. It was love. You could almost see it glisten, shimmering there beside the sea. Strains of that silly war song came to mind, "By the sea, by the sea, by the beautiful sea . . ."
I started to wonder whether I had ever had a feeling like that with my mother. Then I realized, of course, I must have. We all must have.
If we had not, we'd not know it when we saw it. Would we?
I looked up at the breathtaking sunrise and thought to myself I'd seen creation through God's eyes by watching the love of a mother and her child.