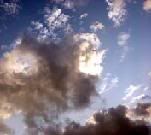 It's so easy for me to get used to a gray sky. A habit forms and I find myself planning for dreary days without end. I assume that people on the street won't be smiling, so my own smile goes away. I get lost inside my thoughts, preparing for the next thing that will go wrong. I'm not really sad, not depressed, not really anything. I'm just moving forward, just making time pass. The saddest part is I don't know I've switched off. I've no clue I'm doing it, but everyone around me most certainly does.
Then out of the blue, I should say out of the dreary old gray, some unexpected thing goes right. Something happens that is good, fine, and just as it should be. It's not a lottery win or a big present from my mother-in-law. It's just something that went nicely, a kind thing with a little bit more. A person who treated me like a person, who acted with fairness. I shouldn't be surprised, but I am.
Then the clouds start to move, and the gray makes room for blue in the sky. I remember to smile, and I feel lighter. My insides keep saying, "Isn't life a good thing? My mind keeps repeating "I needed that. I really did. Thank you, God. Thank you, God."
My soul can get hungry for good things to happen. Kindness and sunshine nourish my spirit. No question about it.
—me strauss Letting me be