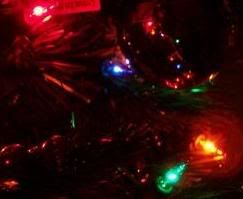 When I was small I could stare into a Christmas light and see all the way to the North Pole. Santa would be checking lists. The elves would be checking toys. The sleigh was being piled high. The reindeer were eating before they go. If I wanted to see the sleigh go flying in the night, I only had to wish it so. In a moment, the reindeer were hitched up. Santa was in and off they went.
I can still do it now in any Christmas light—any shape, or size, or color.
Staring in a Christmas light, I see Santa's eyes reflected in frosty glass windows. We're in the little house on the town square where I sat on Santa's knee. In the red, and green, and yellow glow of early night I confessed my heart's desire—a baby doll, a real toy train, and a box of records as big as me. He caught my mother's eye before he laughed, "That's a lot. I'll see what I can do." His eyes were soft. His beard was too. Holding my mom's hand as we walked out, I felt like Natalie Wood at the end of Miracle on 34th Street.
I can see the picture window ringed with bubble Christmas lights. The lights seem to frame the Christmas tree in my Grandma's living room. I only saw those lights two years. But I remember them, exactly how they tilted on their stems, how the bubbles kept my attention. Funny, I can't say whether there was a television, but I can tell you how many there were and exactly where and what colors.
Like a crystal ball, a Christmas light can show me every Christmas tree that ever sat in my parents' living room. Each one more than the one before caused everyone to ooh and aah over the time my mother must have spent making it a work of art. She really did make it something special. Funny how we really thought we helped her.
And then there is the most romantic night of my life. My first boyfriend—I was seventeen—we rode the train into Chicago. On that blue-black December night the flurries floated down into the city Christmas lights. We watched from the train window. We walked hand-in-hand through it in the city streets, before our dinner on the town. My heart still stops a beat and smiles to think of how young we were, and how romantic it all was. We still haven't forgotten that night or each other.
With every bow I tie tonight, I think about Christmas lights. If Christmas lights hold memories for me, they must be bursting bright with joyful times gone by. Everyone who puts up a tree must have memories lit with colored lights. I wonder how far those memories would stretch if we laid them end to end. I wonder if they'd circle round the Milky Way three or four times or more.
But what about the people who have never seen a Christmas light or never had a Christmas tree?
Christmas lights were meant to look like stars.
People everywhere on Earth go to work and play, eat and sleep. They have fathers, mothers, daughters, sons—memories of the ones they love—the same as I do. They're made of the stardust as I am too. They may not have my Christmas lights, but we share the sky full of stars. They have walked with friends under the stars and made a wish upon a star just like I do. Stars hold more memories for more people for a longer time than Christmas lights do.
The memories and dreams of everyone who's ever been are living peacefully together in the sky above us. That's a Christmas thought worth holding onto.
—me strauss Letting me be