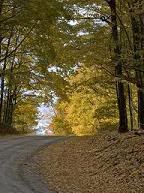 Here I am walking, walking on my road again. I know which way to go. I'm feeling quite at home. Much as I've ever wanted it to be some other way, a country road with trees on either side has always been my road. Things are never too straight, too finished on a country road, and people with such expectations find other roads to get where they are going. They don't see the beauty here; all they see is slow. I think I'm glad about that. No, I know I'm glad about that, because I like walking on my road. I like going slow.

Through the years my road has seen me skipping, riding, holding hands—telling secrets to my friends—crying, looking for a trace of hope. I've sat beside it among the trees, watching grass grow, thinking. I've surrendered to the winds of change that took small dreams away from me and brought bigger ideas back to replace them. I've seen shooting stars up in this sky at night while walking to find out where I was going.

Each step I've felt the tiny changes underfoot as the shoulder went from rockier to frozen to softer. I'd stop to take in the view. I'd stop to feel the space around me. I'd stop to find out who I am, all the while knowing that this road was going where I was going. I was safe as long as I stayed on it—the pathway of my life, full of beauty and still growing.

I have shared my road with friends, talking of relationships and eating ice cream cones. They've said, "We miss our walks. When will we walk again?" Then life put a turning so that next walk never happened. I guess that despite our loyalty I always knew my friends would need to walk on their own roads.

And I was meant to walk my road alone—alone inside a sweet fall breeze, under trees with music in the air, and me wondering what's beyond that incline in the sunlight up ahead. Too bad my friends will miss it.

It's a lovely day to be walking on my road.
—me strauss Letting me be