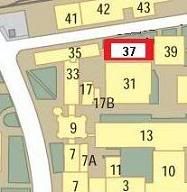 I had a meeting. I had to go somewhere I'd never been before. I find that stressful. I didn't know how to get there. The cab driver didn't either. Apparently he was even less comfortable with the idea than I was.
"Building 37
MIT
, please," I said.
"Do you have an address? I won't go without an address," he said without moving the car.
"I'm sure I do," I said. "Give me a minute. In the meantime, it wouldn't bother me at all if you chose to smile."
He didn't. In fact, I got the distinct feeling that he didn't believe that I had the address. He didn't move the taxi forward either—despite the taxi pulled up behind us waiting.
Now I felt even more stressed. Why was I feeling responsible for this guy's misbehavior? My nature I guess. I reached in my bag and pulled out the e-mail that carried the address of Building 37.
"Okay, here it is—77 Mass Ave." He didn't believe me. I had to show him.
Was I giving off some sort of "push me around" vibe? Had my younger, older brother been here before me, whistling and telling stories? What was going on? Strangers usually reacted positively to me.
I showed him the address in print.
"Okay I'll take you." he said.
I wasn't sure what my response was supposed to be.
Okay, he'll take me?
My understanding of capitalism was that I pay. He takes me. Was I confused? Was he?
He drove to the address. Part way there he asked if I wanted a receipt. Was he trying to make up with me? I cheerfully said, "Yes, thank you. That would be good." He handed one to me.
It was an $8.00 ride. Upon reaching our destination, I got to see the nicer side of the man behind the wheel. A cynic might say he had started to think about the tip. I gave him the fare and a tip. I lived for tips once. It was for me and for him.
He said, "Have a good day."
My first thought was,
"Too late."
Then I looked at the beautiful blue sky and thought again. I said instead, "You know I plan on it! You too. Have a lovely day. By the way, I just know you're even better looking when you smile."
As he said goodbye, he did.
—me strauss Letting me be